I recently purchased a 2007 Chevrolet Tahoe LTZ as a project for our Youtube channel and to test products on this site! One of the most significant issues it had, was heavily damaged carpeting. The carpets were badly stained (beyond repair), and the fibers had been worn through to the metal in some places.
While replacing the carpeting was far outside of my budget range for the product, I was excited to test out something I always wanted in a vehicle, and that would be full-coverage Husky WeatherBeater Floor and Cargo Liners.
Quick Note: The online retailer RealTruck was kind enough to send me these floor liners to check out! Coverage was not guaranteed, and all opinions are my own.
Why should you trust me? I have been involved in the automotive industry most of my life, both as a hobby and professionally, and on this site (and our Youtube channel). Testing products out is something I enjoy doing, and putting them through the paces so I can tell you what to expect is one of the greatest jobs. You can learn more about me here!
Table of Contents
What are the Husky Floor Liner and Cargo Liner?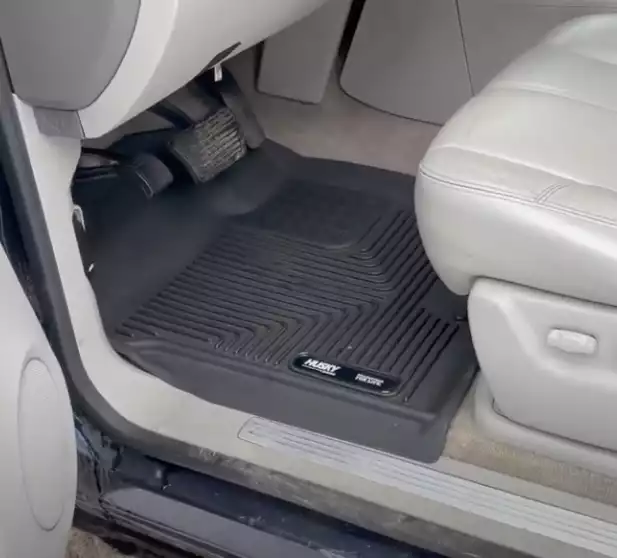 The Husky Floor Liner and Cargo Liner are a matching set of high-end, high-quality, custom-fit, laser-scanned floor liners to fit each vehicle perfectly. They are built to stay in place, last a lifetime, are made in the USA, and include a lifetime warranty from the manufacturer.
Pros:
Easy to install into the vehicle

Complete coverage

High-quality materials

Works with my third row
Cons:
I had to cut the mats to fit in the third row

An expensive purchase
See Price: Husky Floor Liners
See Price: Husky Cargo Liners
We earn a commission if you make a purchase, at no additional cost to you.
What did I like about it?
1. Easy to install into the vehicle
Purchasing floor mats that are laser cut specific to your exact vehicle makes installation incredibly easy, and these are no different. Rather than having to cut away at every floor mat throughout the car to make it fit around transmission tunnels, seat supports, and more, you can remove the old ones and place in the new ones. 
Each floor mat in the front two rows of my SUV took me seconds, while the rear cargo liner was a bit more involved, as it had to be placed under my third row and portions cut out (we'll talk about that later).
2. Complete coverage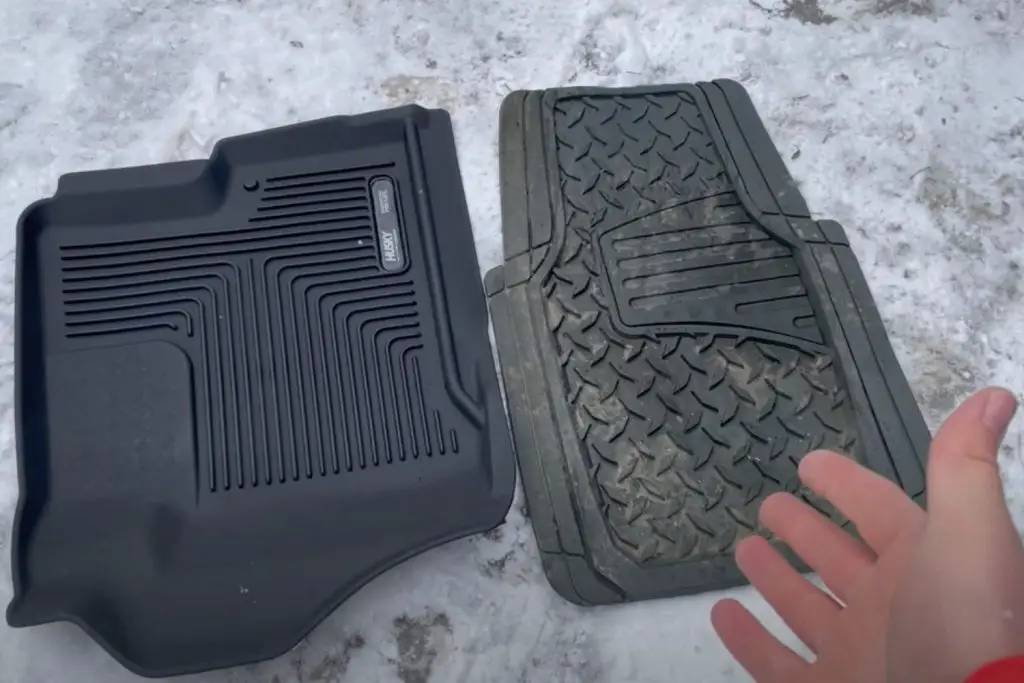 These floor mats are called liners because they give you considerably better coverage than standard, universal ones. 
They perfectly fit around the oddities that are vehicle flooring, and I try to get you as much coverage as possible, and I am highly impressed. This also has helped a ton, as these partially hid old damaged carpeting, and it achieved that well.
To build on this coverage point, they even channel anything that does drop on the water, like water, juice, or anything else you can think of, towards the doors, rather than letting them sit in the grooves of the liner; I like that. You can see the real difference between a universal floor mat, and a Husky Floor Liner in the image above!
3. High-quality materials
While this may not be a carbon fiber floor mat in a Lamborghini Aventador, it is precisely what you would expect from a high-quality, laser-cut, and exceptionally high-price point floor liner. It is made of thick elastomeric material called DuraGrip, essentially a thick, durable, and flexible material. 
This means it will last awhile (it has a lifetime warranty if it doesn't), but it also means it won't be curly up if they get pushed around as many cheaper solutions do. By the way, they have some aggressive nubs on the bottom to keep that from happening.
4. Works with my third row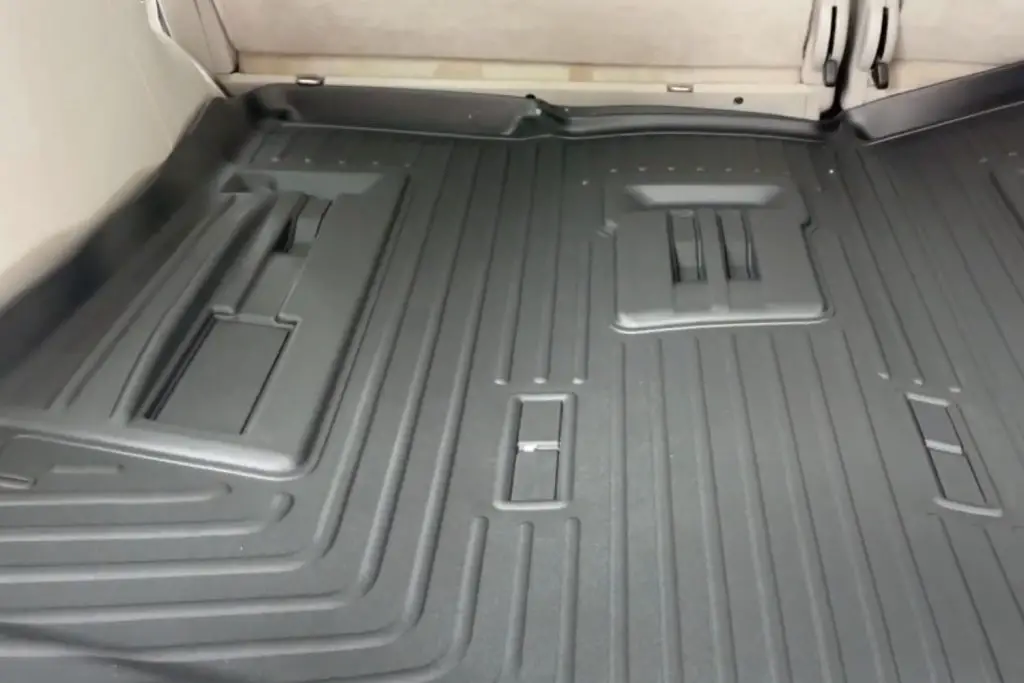 While the front two rows and the rear third row of my Tahoe are different SKUs, it is so nice to have the complete set, including coverage for my third row and behind it. Much like the first two rows, the rear cargo liner perfectly fits around all of the different mechanisms needed for the third-row installation and doesn't get in the way of the rear hatch closing, yet still covers right up to it.
What do I not like about it?
1. I had to cut the mats to fit in the third row.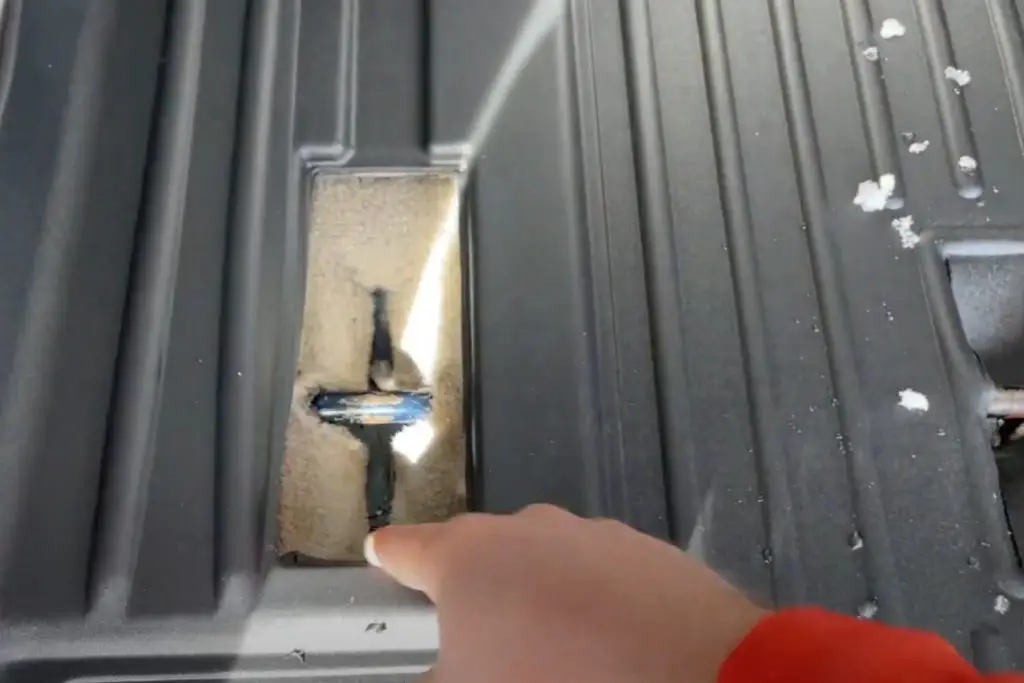 While having the ability to have the rear third-row flooring covered (as well as the cargo area) was a huge benefit, it also brought one of the only things I liked less. 
Installing the third-row cargo liner requires you to cut out multiple parts of the floor mat to allow your third-row seats to be replaced in the vehicle. I wish this had been punched out at the factory to make installing these rear floor liners as easy as the front. 
That said, this was on purpose so that owners can decide if they want to make this modification or continue with full coverage if they are an owner that doesn't keep the third row in their vehicle for extra space.
2. An expensive purchase
These Husky WeatherBeater Floor Liners are not an inexpensive purchase, and the complete setup that I received retails for well over $300. This isn't an option if you are looking for an affordable way to protect your floors. However, you will lose out on a lot of other things. However, I'll address that more in the next section.
Are Husky WeatherBeater Floor Liners worth it?
So at over $300 to cover my Tahoe, are the Husky WeatherBeater Floor Liners and Cargo Liner worth it? After doing some quick searching, these Husky floor liners are, in fact, the least expensive of this category of floor liners, so if this custom-fit, high-quality liners are what you are looking for, then there is nothing better. 
These have been some of my favorite additions to my Tahoe and completely changed the feel of the vehicle, and I don't have to worry about spills and dirt.
If you are on a budget, you can get primary coverage with a universal fit floor mat for considerably less.
What are the competitors to Husky WeatherBeaters?
The primary competitor to Husky WeatherBeater Floor Liners is the more well-known WeatherTech brand. Both companies do have similar quality, fit, and finish to each other. However, WeatherTech is a reasonable $30 more for the front two rows and $15 more for the cargo liners. If you prefer name recognition, WeatherTech is the one to beat; however, if you like saving some money for what is essentially the same product, Husky is your go-to.
Frequently Asked Questions
Are all-weather floor mats worth it?
All-weather floor mats are incredibly worth it, the floor liners added to my Tahoe have entirely changed the feel of the vehicle, have hidden the existing damaged carpeting, and I no longer have to worry about anything further damaging my floors. 
Is Husky an imported brand?
Husky floor liners are a domestic brand (not imported) and are made in the USA.
Conclusion
I have been impressed with my Husky WeatherBeater Floor Liners and Cargo Liner. They have been installed in my vehicle for a couple of months now, and I still enjoy seeing them in the vehicle, underneath all the gravel, dirt, and grime that has built up on top of them, rather than embedding themselves into my carpeting.