While there are many great truck bed storage solutions out there on the market today, there are none better than a drawer system. Essentially, these drawers make it easier, more efficient, and better to store your items than really anything else. They are awesome for the outdoorsman, job site workers and so much more.
In this article, we are going to discuss all of our favorite bed drawer systems, and help you make the right choice for what you are hoping to achieve when out shopping to better organize your truck with drawers.
If you are looking for something other than drawers to organize your truck, we have an expansive list of great ideas in this article here that you should also check out.
So without more to do, here are the top 6 drawer systems on the market today for organizing your pickup truck.
1. DECKED Drawer System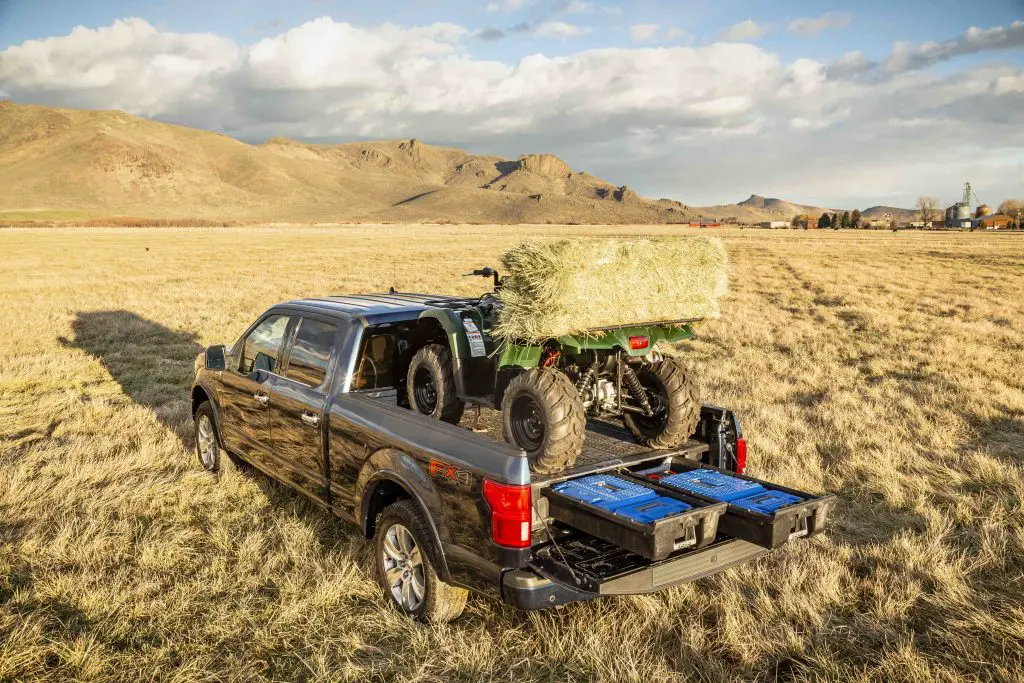 If you don't read anything further in this article, and you just see this one, that is okay. This is hands down our favorite drawer system on the market today. It easily sits at the top of any of our lists for anyone that wants a good way to keep their truck organized.
The drawers themselves can hold up to 200 pounds each, the flat portion on the top can handle a payload of up to 2000 pounds (meaning you can put ATVs, Dirt Bikes, and more on top), and it is completely weatherproof.
Over time, they have released custom versions of this drawer system to fit into most trucks, ranging from the newest F-150 to my older Ram 1500.
This is all secured by not only your pickup tailgate, but each drawer has its key port as well.
2. TruckVault
While we believe that the DECKED Drawer System is the best all-around drawer system for most people(the best value that is), the TruckVault system is by far the highest quality drawer on the market and is a bit more specialized for each person.
Not only are they high quality, but there are tons of different versions to fit your lifestyle.
Are you someone that likes to go Overlanding? The Base Camp Line is the version for you.
No cover over the bed of your truck? The All-Weather-Line will keep it dry.
Have a tonneau cover, and want carpet? The Covered Bed Storage version is perfect for what you are looking for.
They even offer TruckVaults for people with goose neck trailers and more. No matter what you choose, TruckVault makes an awesome product, that won't disappoint.
3. Jobox 3-Drawer Aluminum Drawer Storage
If you are on the hunt for something a bit more compact (only 6″ high) than the DECKED and TruckVault options above but want something that still offers longer drawers, then this Jobox is an awesome option.
It is made completely of aluminum, with a diamond plate style on top for grip, and three drawers that can each be sectioned out into small sections to store everything ranging from tools to nuts and bolts.
This is an extremely high-quality, yet easily removable, moveable option (only 89 pounds) for people that do serious work with their pickups. Keep in mind though, that this is not a water-tight product, so I would recommend covering this with something like a tonneau cover, or a camper shell.
4. Overland Vehicle Systems Cargo Box
Are you really into Overlanding, or just want something a little more compact with usable functions? This one can offer that. This is essentially a single drawer that sits on the bed of your truck. The drawer then can be rolled out to reveal all of your items.
However, there is also a tray that you can pull out, instead of the drawer, making a great workstation, food prep station, or anything you can think of.
This makes for a great option for anyone that doesn't need to store quite as much gear as other options on this list but still wants some high-quality storage with a bit more usability built in for things like camping, Overlanding, and more.
This drawer is made of steel and weighs around 67 pounds, so it isn't exactly portable and sits more at the heavy-duty side of things.
5. Weather Guard Storage Drawer
Do you wish you had something like the Jobox above, but a bit taller, and only had one large drawer instead of three? This one would be your solution.
This 254-pound heavy-duty drawer system would be perfect for electricians, plumbers, or just anyone that wants something that isn't going to break down anytime soon to store their gear. It is made almost completely of steel, and offers a skid-resistant top so that you won't be slipping around when you step on top of it.
6. BEDSLIDE Classic
Now, what if you want drawer-like abilities, without the drawers themselves? That is where a good BedSlide comes into play. These BedSlides essentially turn the bottom of your pickup truck into one giant drawer without a top.
You can place tons of items on top of the slider, which then retracts into the bed of your truck. Then when you want easy access to your gear, it slides right out in front of you, rather than having to climb into the bed of your truck.
This Classic version comes with railing on the sides, holds up to 1,000 pounds, is the slip-resistant floor, and is made right here in the USA.
What should you think about when buying a truck bed drawer system?
1. Size of the system
The size of the system you need will be dictated by the amount of gear you need to store. If you only need to store a few smaller items, then you don't need a giant system that takes up half the bed of your truck. Conversely, if you do lots of work out of your truck and need to store lots of tools, materials, etc. then you will want something on the larger side.
2. How much weight it can hold
This is also important to consider because you don't want a drawer system that is going to collapse under the weight of your gear. Most systems will have a weight limit listed, so be sure to check that before making your purchase. This includes both the payload limit on top of the box, but also inside of the drawers as well.
3. The durability of the materials
Just like the bed of your truck, this drawer system is also going to take a beating. Because of this, you want to make sure that the system you purchase is made out of high-quality materials that are going to be able to withstand whatever you throw at it. This includes things like weather resistance, corrosion resistance, and more.
4. Ease of installation
You also want to think about how easy the system is to install. Some systems will come pre-assembled, while others will require some assembly on your part. Some will require you to drill into the bed of your truck, while others will bolt on and be ready to go. Obviously, the easier it is to install, the better.
5. Do you need to put anything on top of it
This is something you will want to consider before making your purchase. If you plan on storing things on top of the system, then you will want to make sure that the system you purchase can accommodate that.
This means making sure that it is the right size and also has a payload capacity that can handle the weight of whatever you plan on putting on top of it. You should also make sure that the surface is non-slip, not only to make sure your stuff doesn't slide around, but also that you don't slip and fall when stepping on it.
6. How many drawers do you need?
If you plan on using the system for storing smaller items, then you will obviously need more drawers than if you are just going to use it for larger items.
You should also consider how often you will be accessing the items in the drawers. If you need to access them frequently, then you will want to make sure that the drawers are easy to open and close.
When you are looking at truck bed drawer systems, keep these things in mind and you will be sure to find the perfect one for your needs. With so many different options on the market, there is definitely something out there for everyone.
How do I organize my truck bed for camping?
Camping is a great way to get away from it all and enjoy the outdoors. However, roughing it can quickly become a nightmare if you're not properly prepared. One of the best ways to make sure you have everything you need is to invest in a pickup bed drawer system. These systems provide a convenient way to store and organize all your camping gear, so you can easily find what you need when you need it.
They also keep your gear safe and secure, so you don't have to worry about anything getting lost or damaged. Plus, they're easy to install and use, so you can spend more time enjoying the great outdoors and less time setting up camp. Whether you're an experienced camper or just getting started, a pickup bed drawer system is a great way to make sure your next camping trip is a success.
How do I keep my groceries from rolling in my truck bed?
A drawer system is a great way to keep your groceries from rolling around in your pickup truck's bed (even if you have an odd bed size). By creating a space for your groceries in the back of your truck, you can ensure that they will stay put during transit.
Not only will this keep your food from rolling around and getting damaged, but it will also prevent it from becoming a mess in the back of your truck. In addition, a drawer system can also provide you with extra storage space for other items that you need to transport in your truck. By keeping all of your items organized and in one place, you can make it easier to find what you need when you need it.
Whether you are looking for extra storage space or a way to keep your food fresh and damage-free, a drawer system is a great solution for pickup trucks.
Conclusion
There are a lot of great truck bed drawer systems on the market, but which one is best for you? It depends on what you need to use it for. If you are looking for something compact, the Jobox is a great option.
If you need something taller, the Weather Guard is a good choice. And if you want something that slides out, the BEDSLIDE is a great option. Consider what you need to use it for and then make your decision based on that. Thanks for reading!