Having AWD is a must for many people, whether it be for getting you out of sand in the desert, or keeping you going forward in the snow and ice, all-wheel-drive can be a deal breaker for many. However, keeping on a budget is also a big deal breaker as well! So we went through every electric vehicle to see which offered AWD as an option and listed them for you to take a look at.
| Vehicle | MSRP | Range (Miles) |
| --- | --- | --- |
| Toyota MZ4X | $44,080 | 252 |
| Subaru Solterra EV | $44,995 | 220 |
| Volkswagen ID.4 AWD Pro | $46,295 | 255 |
| Ford F-150 Lightning | $46,974 | 230 |
| Hyundai Ioniz 5 SE | $47,140 | 303 |
| Fisker Ocean Ultra | $49,999 | 340 |
1. Toyota BZ4X – $44,080
If you are looking for the most budget friendly EV with AWD included in it, then the BZ4X is going to be your best option! The BZ4X narrowly edges out its nearly-identical twin, the Subaru Solterra by less than a $1000, meaning you can make your choice as to which cheapest AWD electric vehicle you would like.
This Toyota has a bit more Lexus styling in it, mixed with Toyota Rav4 DNA for its aesthetics. With a 12.3″ screen in front of you, you have a fully customizable experience for your dash.
With 215 horsepower in the AWD version of this vehicle, you aren't going to be winning any races, but with a respectable range of 252 miles, you should be just fine, considering the entry price point of this vehicle.
2. Subaru Solterra EV – $44,995.00
Not only is the Solterra just AWD, but it is Subaru's Symmetrical All-Wheel-Drive (essentially a full-time-four-wheel-drove system) which is renowned for being one of the best AWD systems on the market today. Side note: Did you know that all Subaru's (except for the BRZ) offer AWD?
The all-new Subaru Solterra is the brand's first all-electric SUV, and has a range of up to 220 miles on a single charge, and it can be fast-charged to 80% in just 60 minutes. If you are a fan of the partnership between Toyota & Subaru (which brought us the BRZ and GR86), then you will like the Solterra, as it shares the same platform as the bZ4X (which we already talked about). So if you didn't quite want a Toyota, then the Solterra is your best bet.
Outside of its fantastic AWD system, you can expect great features like 8.3″ of ground clearance, the S-Pedal feature (one-pedal driving), and of course Subaru's EyeSight technology, which allows for a variety of driver assist features.
3. Volkswagen ID.4 AWD Pro – $46,295.00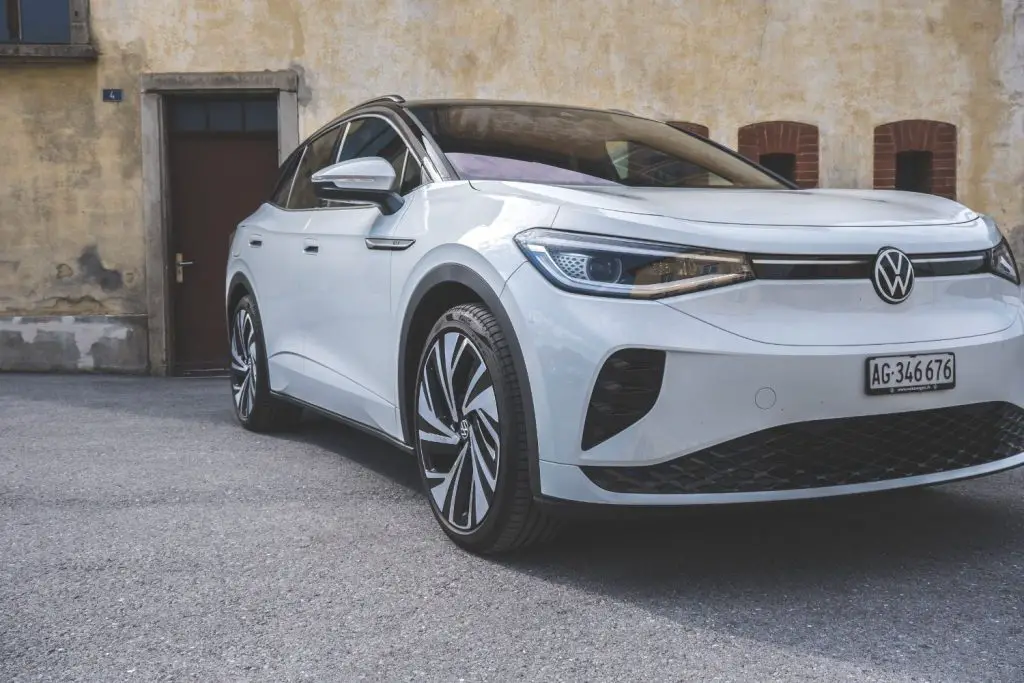 The ID.4 is quickly becoming one of the most popular electric vehicles on the road, and I have been seeing them all over the place. This is partially due to quality, but also to plenty of great features and being a relatively inexpensive AWD crossover option. While the base price of $37,495.00 gets you a RWD variant, you can upgrade to and AWD version for $46,295. Of course this comes with a host of other upgrades, including more power that gets you from a standstill to 60mph in 5.7 seconds.
The AWD Pro version of the ID.4 also comes with features like 19″ wheels, heated and cooled front seats and a trailer hitch package, which make it possible to tow up to 2,700 pounds. And with standard LED headlights, the ID.4 is always ready to light up the night.
Whether you're looking for a new car that can help you get around town or one that's capable of taking on any adventure, the Volkswagen ID.4 is a great option. With its impressive list of features and its all-wheel-drive powertrain, the ID.4 AWD Pro is sure to be a blast to drive
4. Ford F-150 Lightning – $46,974.00
The Ford F-150 Lightning didn't surprise anyone, it essentially is an electrified version of the F-150, with an awesome frunk in the front of the vehicle. What did surprise everyone, was the fact that it started at a price of under $50,000 with a starting MSRP of $46,974.00.
The Lightning comes standard with 4WD, which means you can even get their base truck, and know you are good to go in the snow and mud. It also has a towing capacity of over 11,000 pounds, meaning you can haul just about anything you need. And with a range of over 320 miles on a single charge, so you can go further than ever before.
Now, yes, I know. It technically isn't AWD. However, due to its price point, and the similarities between AWD and 4WD, the buyers looking for AWD, will still be keeping this on their short list, considering the value (and size of the vehicle) that you get for your money.
5. Hyundai Ioniq 5 SE – $47,140.00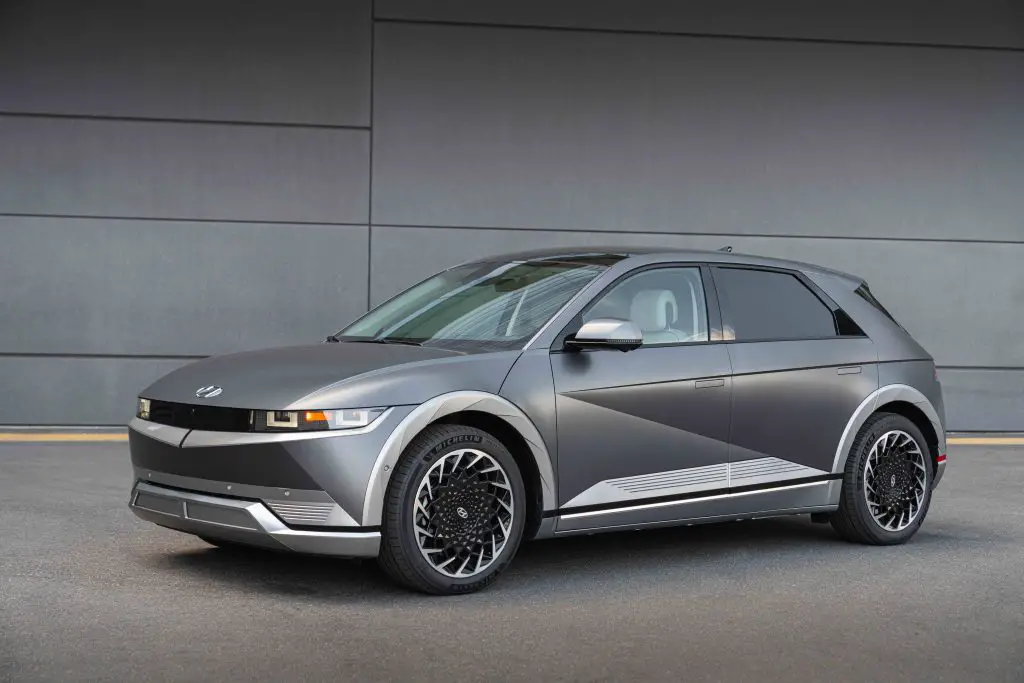 Not only is the Ioniq 5 one of the least expensive AWD electric vehicles on the road today, but it also one of my personal favorites. Hyundai has been pushing out some really great vehicle lately, not just in quality, but also styling. They utilized the electric platform to adjust the proportions of this vehicle to make it look like a hatchback, yet it is actually a crossover.
The Hyundai Ioniq 5 is an electric SUV that comes standard with RWD at a base price of $39,950.00, however you need to upgrade to the dual-motor version at $47,140.00 to get all four wheels powered. It has a range of up to 303 miles on a single charge. The Ioniq 5 also features a spacious cabin with plenty of room for passengers and luggage.
This one also has plenty of advanced safety and driver-assist features like Highway Driving Assist, Lane Keeping Assist, Forward Collision-Avoidance Assist, and quite a few more.
Whether you're looking for an electric SUV with all-wheel drive or you just really like a vehicle with the most modern tech, the Hyundai Ioniq 5 is a great choice.
6. Fisker Ocean Ultra – $49,999.00
This is an extremely new entrant into not only the budget AWD electric vehicle, but in the electric vehicle range at all. The Fisker Ocean is an all-electric SUV that comes with all-wheel drive as an additional option, but this option still keeps it just under the $50,000 price point of this article.
With the upgraded Ultra (from the base Sport version) It has a range of up to 340 miles instead of 250 miles, can be charged to 80% in just a little over 30 minutes. The Ocean has a starting price of $37,499, making it one of the most affordable all-electric vehicles on the market, however you have to upgrade to the Ultra package to get AWD, placing the final MSRP at $49,999.
Standard features include 22-inch wheels, and a 17.1-inch touchscreen display. It also includes Automatic Emergency Braking, Front and Side Collision Warning, and Lane Keep Assist.
Why aren't there more, less expensive AWD electric vehicles?
Electric vehicles in general are quite expensive, in fact, we dedicated a complete article about it right here. Outside of the reasons in that article, which include development costs, the expensive batteries, charging infrastructures and such, an AWD system is quite expensive to add to an electric vehicles.
While ICE (internal combustion engine) vehicles primarily add a transfer case, and other lighter items, it is required to install an additional motor to either the front or rear wheels of an electric vehicle to add the AWD functionality. However, the added motor(s) do end up giving more power as well, which is a great trade-off.
That said, with the additional motors that need installed to make an AWD electric vehicle, it generally is quite expensive to upgrade a standard 2WD electric vehicle to an AWD configuration.
Is AWD the same as 4WD?
All-wheel drive (AWD) and four-wheel drive (4WD) are often used interchangeably, but there are actually some key differences between the two.
AWD is a system that powers either the front wheels, or the rear wheels at all times. However, when slippery, wet or icy conditions are present, it can also send different amounts of torque to each wheel (front and rear, or side to side) as needed.
4WD, on the other hand, is generally either on or off, and typically is only used when conditions are rough or slippery, as it can cause increased wear and tear on the drivetrain. As a result, 4WD is usually found on larger vehicles like trucks and SUVs, while AWD is more common on smaller cars and crossovers.
So while they may appear to be similar, AWD and 4WD are actually quite different.
Does the Nissan Leaf come in AWD?
The Nissan Leaf is one of the cheapest electric vehicles on the road today! However, it didn't make this article's list, as it does not have an optional AWD system. Unfortunately, this leaves out much of our country for viability of the Nissan Leaf.
Conclusion
Although not all of these vehicles are available in all markets, they are all affordable options for those looking for an electric vehicle with AWD. All three of these vehicles have competitive ranges and offer a variety of features that make them appealing to a wide range of buyers. So, if you're in the market for an AWD electric vehicle, be sure to check out these affordable options.