Camping is a great way to get away from it all and enjoy the outdoors. However, roughing it in the wilderness doesn't have to mean giving up all of your home comforts. These days, there are a number of electric vehicles that are specifically designed for camping. From RVs and trailers to vans and cars, there are a number of options to choose from.
So, whether you're looking for a way to power your lights or keep your food cold, there's an electric vehicle (made by a variety of brands) that will meet your needs. In this article, we'll take a look at some of the best electric vehicles for camping. We'll discuss everything from range and battery life to storage and portability, so you can find the perfect vehicle for your next camping trip.
1. Ford F-150 Lightning
| | |
| --- | --- |
| MSRP | $46,974 |
| Range | 320 miles |
| Towing Capacity | 7,700 pounds |
Following up on the footsteps of our article about the best Overlanding electric vehicles (that you can read it here), the F-150 Lightning is going to be one the top option for camping as well!
Not only does it have one of the best electric ranges (up to 320 miles with the extended battery), but it has plenty of space inside (and outside), and it has a crazy amount of aftermarket support. This aftermarket support was built in, as they essentially turned their gas trucks into electric vehicles. This means all interior accessories, exterior accessories and more will work on this truck.
It should also be mentioned that the F-150 Lightning has the capability of exporting up to 9.6-kilowatts of electricity from its battery. This would power a campsite for days or even weeks! That makes it perfect for those that may just want a little bit of power for their morning coffee, or tons of power for their glamping experiences.
Another huge benefit of the F-150 Lightning is its entry price point, as you can find a base model Lightning for under $50K, making your camping adventures in an electric vehicle that much more possible.
2. Rivian R1T
| | |
| --- | --- |
| MSRP | $67,500 |
| Range | 314 miles |
| Towing Capacity | 11,000 pounds |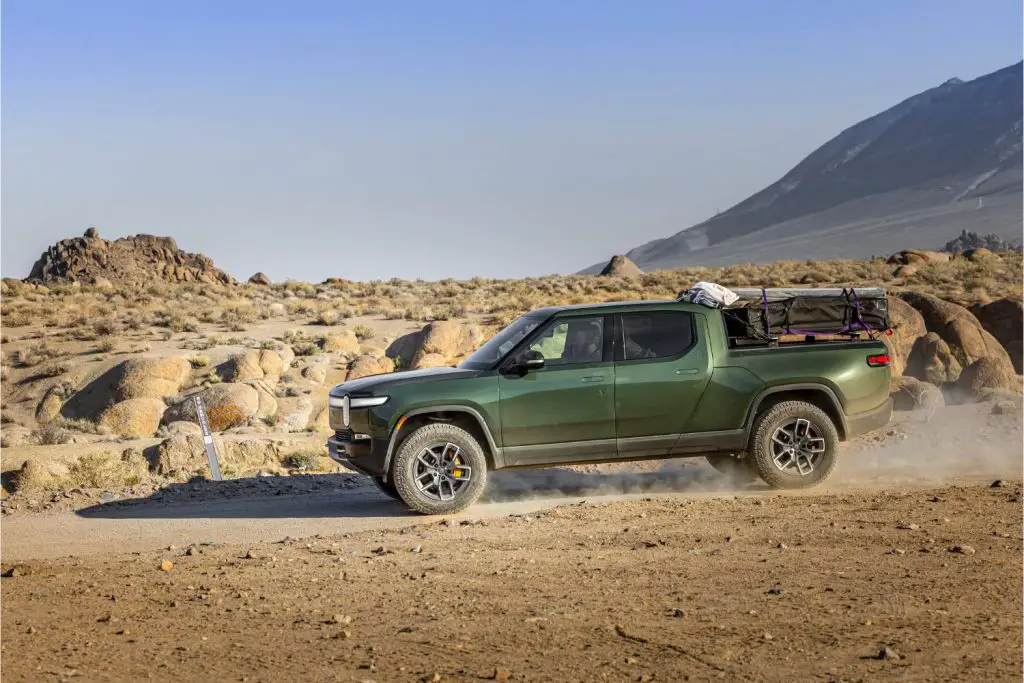 The Rivian R1T was made to go camping, as it includes so many features that make it an ideal camping vehicle (gas or not). With tons of storage in the front, rear and even in the middle (it has a cargo tunnel going through it), it can take all of your camping gear with you without batting an eye. With a 314 mile range, it can get to your campsite and back with no issues, and can even help you power the campsite, as it can act as a generator by utilizing its massive battery.
The R1T is also a vehicle that can get you out into the harder to get to campsites, as it has 14.4″ of ground clearance (trail ruts beware).
Once you are at your campsite, you probably are hoping that you upgraded to The Camp Kitchen, which is an expensive, yet imparative upgrade for those that enjoy camping. This replaces the gear tunnel with a complete camp kitchen, which includes a 2-burner electric stove, a sink, and a water holding tank. I mean, who doesn't want that right?
3. Rivian R1S
| | |
| --- | --- |
| MSRP | $72,500 |
| Range | 316 miles |
| Towing Capacity | 7,700 pounds |
You guessed it, the next up on this list is the other Rivian! The R1S is the SUV sibling to the R1T Pickup. It has many of the features of the R1T (including its 3 second 0-60), but replaces the bed of the truck with the 3rd row seating of an SUV. It also cuts down the vehicle length to 200.8″, making it an even better off-roader.
Unfortunately though, the gear tunnel is no longer available, which means you can no longer upgrade to the camp kitchen. However, bringing the rest of the family with the additional seats probably makes up for that.
The R1S will still act as a generator, has plenty of ground clearance, and still has the frunk in the front for your gear, and an extensive cargo area in the back to store all of your stuff.
If you are roughing it in your camping weekend, and it starts to rain, you can lay all the seats down and lay down on its completely flat load floor.
4. Hyundai Ioniq 5
| | |
| --- | --- |
| MSRP | $41,450 |
| Range | 266 miles |
| Towing Capacity | 2,300 pounds |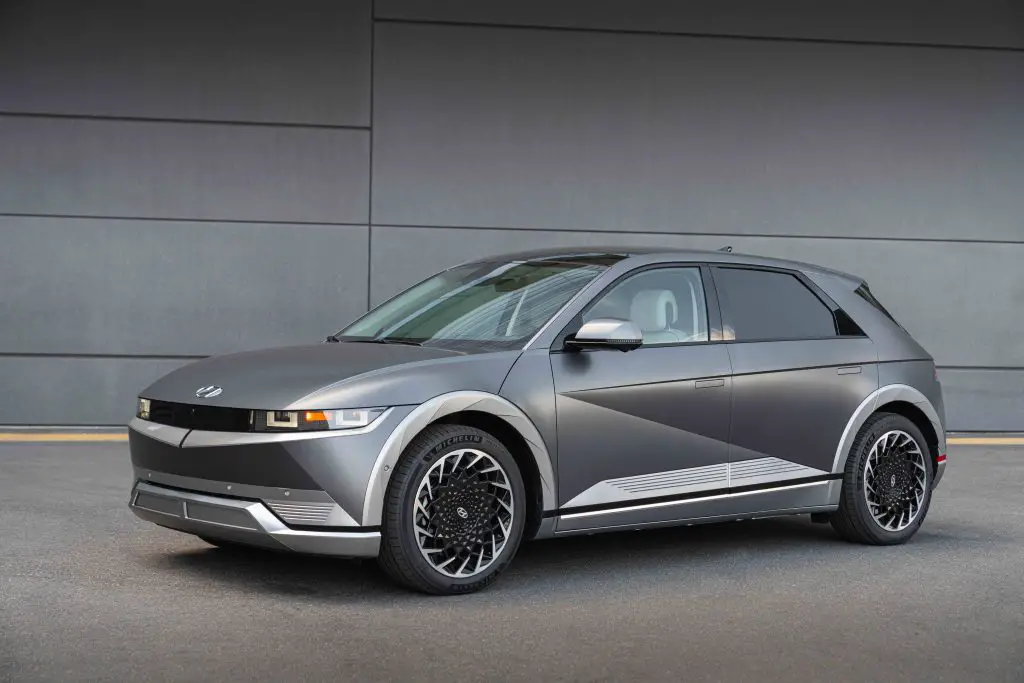 Not everyone needs a large SUV or pickup truck, but that shouldn't mean you can't use it to go camping. That is why we like the Hyundai Ioniq 5. Why the Ioniq 5? Because it still has plenty of space, but mainly because it can act as a generator (just like the vehicles above). I think that this is such a huge benefit, as you don't have to worry about taking battery packs with you, and you know that you can still enjoy some niceties along the way.
If you are someone that likes to sleep inside of their car while camping, the Ioniq 5 even has a utility mode, which allows the AC/Heater to run, and everything to continue charging, but turns off all of the different lights throughout the vehicle (ex: dash, infotainment center, etc), to allow you some peace and quiet.
It should also be mentioned that there is around 72″ of length in the back of the vehicle, so anyone around 6′ or less will have no problem laying down in the rear of the vehicle to get some shut eye.
5. Tesla Model Y
| | |
| --- | --- |
| MSRP | $65,990 |
| Range | 330 miles |
| Towing Capacity | 3,500 pounds |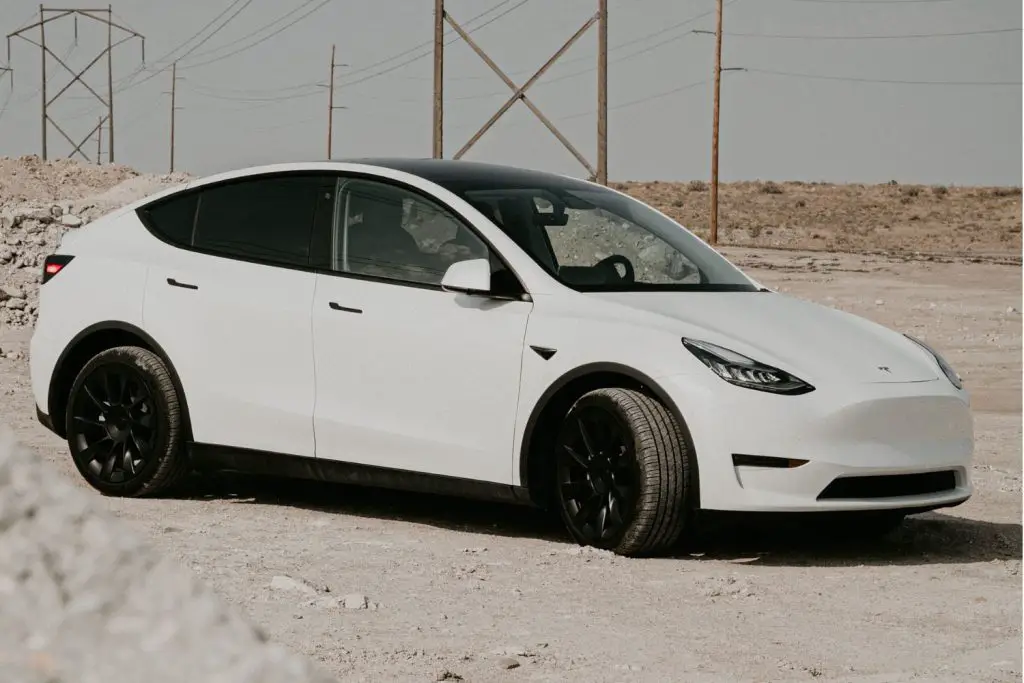 Much like the Ioniq 5 we talked about above, the Model Y has a camp mode! This allows everything to charge, and be utilized, yet you can keep all of the lights off while you are sleeping.
The Model Y also has plenty of space in the rear to lay down and sleep if that what you are hoping to do. It also helps a ton that Tesla is such a popular manufacturer, meaning there are plenty of awesome accessories you can purchase to make your Tesla Model Y the perfect camping rig. A great example of this is this mattress that is custom fit for the vehicle.
6. Tesla Model S
| | |
| --- | --- |
| MSRP | $104,990 |
| Range | 405 miles |
| Towing Capacity | 2,000 pounds |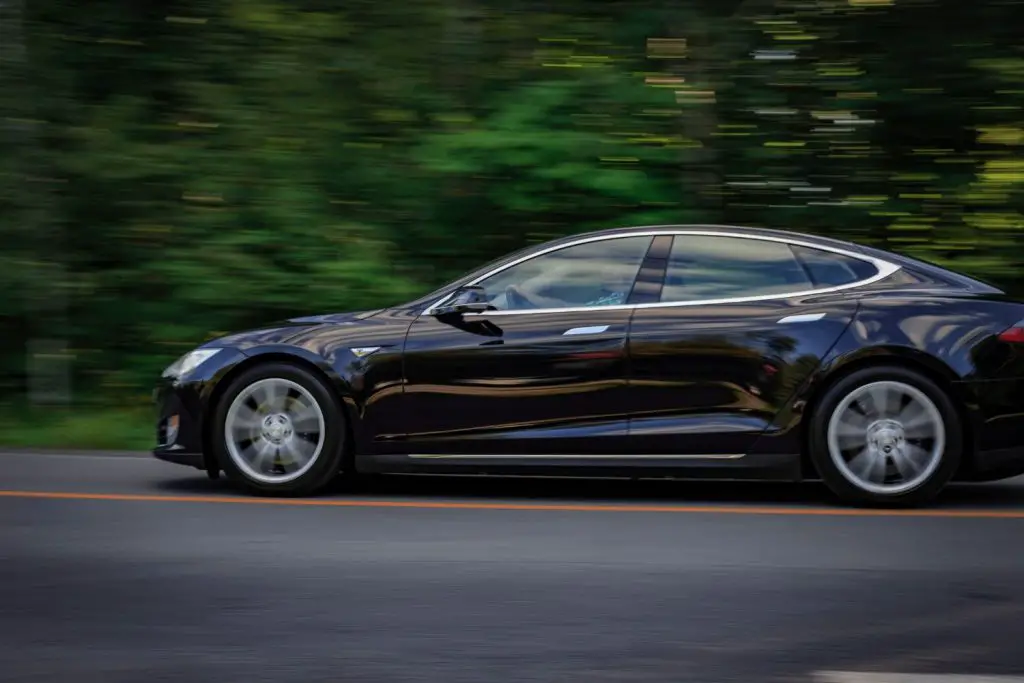 One of the great things about taking a Tesla Model S camping is that there are a ton of accessories you can buy to make your experience better. For example, you can buy a special charger that will allow you to charge your car faster while you're camping. You can also buy a rooftop tent, which will make it easier for you to camp in your car. And, if you're looking to camp in style, you can use camp mode, which will turn your Model S into a camper for the weekend.
Conclusion
While there are many different types of electric vehicles on the market, some are better suited for camping than others. When choosing an electric vehicle for camping, it is important to consider factors such as range, battery life, and off-road capability.
The best electric vehicle for camping will be able to travel long distances without needing to be recharged, provide comfortable sleeping accommodations, and have enough storage space for camping gear.
With so many different electric vehicles on the market, it can be tough to know which one is right for you. However, by considering your specific needs, you can find the perfect electric vehicle for your next camping trip.