While the name Genesis has been around since 2008, when Hyundai utilized it on the Hyundai Genesis sedan and coupe, it has since been spun off into its brand. Hyundai still makes Genesis; however, it is now its luxury brand. They utilize many of the same platforms as Kia and Hyundai but with more upscale features, driving style, and feel.
Why did Hyundai create Genesis?
In the years leading up to 2008, Hyundai wanted to tap into the luxury market, so they created the Hyundai Genesis sedan and coupe! These fantastic, upscale vehicles showed off how far Hyundai had come in the past decade.
However, even though Hyundai (and journalists) knew that the vehicles were fantastic, their sales needed to reflect this. Hyundai and Kia were known as budget brands, which was how they found their way into the US market. They were known for vehicles you could buy for a budget price and know they would only last for a while.
Now that Hyundai wanted to move upmarket, having the Hyundai nameplate didn't quite fit the market they were going for. So they moved the Genesis name from being the vehicle's model name to becoming the brand and make of the car instead.
This worked excellently, as the brand has grown from a fledgling entrant to the luxury market to now having many models, including sedans and SUVs that match BMW, Lexus, and even Mercedes.
While initially, the brand offered budget luxury, the most recent generation of Genesis vehicles is competitive in price and features of these legacy automakers.
What vehicles does Genesis make now?
The Genesis G80 (yes, they use alphanumeric name structures) was the initial vehicle under the new company; however, plenty of others have followed to fill out their lineup.
You will now find the sedans G70 (midsize luxury sedan), G80 (midsize sport sedan), and G90 (full-size luxury sedan) on Genesis showroom floors. Meanwhile, their SUV lineup consists of the GV70 (midsize luxury SUV) and GV80 (full-size luxury SUV).
They have also made their foray into electric vehicles with the compact SUV GV60, the midsize electric version of the GV70, and the electrified version of the GV80.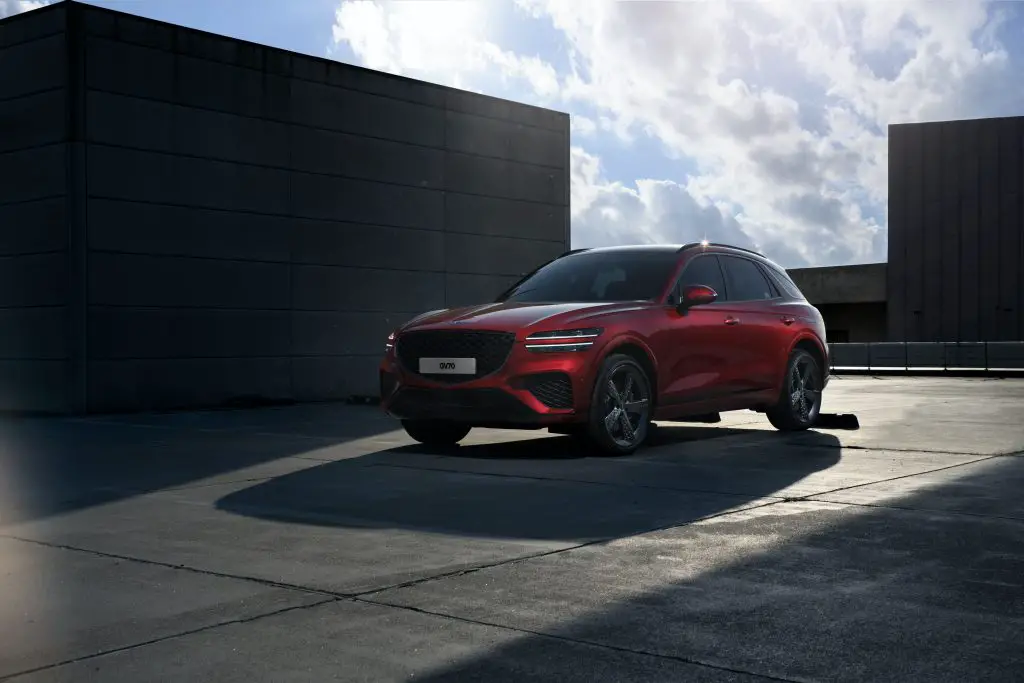 Why are Genesis cars not popular?
Genesis may not be a popular vehicle now, but they have been growing considerably. Back in 2018, they only sold a little under 10,000 cars. Meanwhile, in 2022 they almost hit five times that number. 
Legacy luxury automakers like Mercedes, Land Rover, BMW, and more have decades of name recognition over Genesis. However, the brand is quickly growing.
While they may not be popular now, you will quickly start to see them more often on the roads.
Is Genesis just a fancy Hyundai?
While Hyundai may be the parent company of Genesis, and they share platforms, this doesn't necessarily make it a fancy Hyundai. 
This would be similar to likening a Lexus to a fancy Toyota or a Lincoln to a fancy Ford. While each of these manufacturers does share their platforms, that is about the extent of it.
These luxury brand alternatives have plenty of additional features, styling, and more.
Conclusion
Hyundai makes Genesis cars. These two brands (and Kia included) share platforms and some features; however, each has distinctive styling! Genesis is the luxury side of the Hyundai Group and even has made their way into the electric vehicle market.